Hulu today has added 85 new TV shows and movies to its streaming lineup, including a much-anticipated original series based on a real-life sex scandal in Great Britain.
Hulu, and other streaming services such as Netflix and Amazon, traditionally bolster their streaming offerings on the first day of each month when consumers are more likely to make decisions about subscriptions.
The new title list for Hulu today includes National Treasure, a four-part original Hulu drama based on the sex scandals that rocked British television in the 1990s; Robbie Coltrane plays an aging comedian who's arrested for an alleged rape that took place years ago.
Other notable additions today include Carrie, the 1976 horror film directed by Brian DePalma; The Gambler, the 2014 remake starring Mark Wahlberg as a college professor who's addicted to poker; and A Simple Plan, a mystery starring the late Bill Paxton as well as Billy Bob Thornton and Bridget Fonda (remember her?)
National Treasure: Complete Four-Part Series (Hulu Original)
13 Going on 30 (2004)
52 Pick Up (1986)
A Company Man (2013)
A Simple Plan (1998)
The Adventure of Buckaroo Banzai (1984)
The Adventures of Priscilla, Queen of the Desert (1994)
American Heart (1993)
American Sasquatch Hunters: Bigfoot in America (2013)
Ancient Aliens Origins (2016)
And While We Were Here (2013)
Badges of Fury (2013)
Battle Ground (2013)
The Big Kahuna (2000)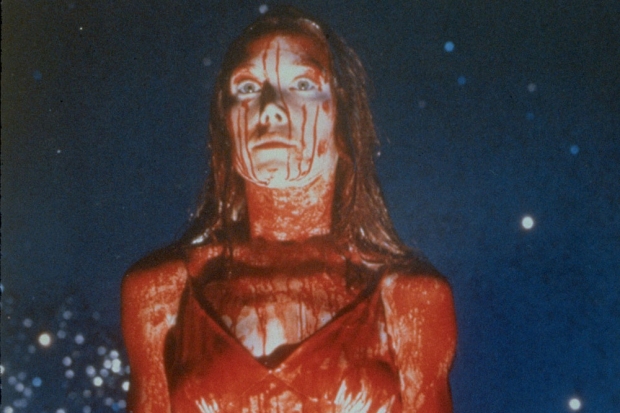 Carrie (1976)
The Rage: Carrie 2 (1999)
Cavemen (2014)
Charlie Bartlett (2008)
Clueless (1995)
Commitment (2013)
See Amazon's 1-Day-Only Deals!
Confession of Murder (2014)
The Courier (2012)
Curse of the Zodiac (2007)
The Cutting Edge (1992)
The Cutting Edge: Going for the Gold (2006)
Dead Man's Bounty (2008)
Doomsday Book (2012)
Dummy (2003)
Eastern Bandits (2014)
Flash Point (2008)
Floating City (2012)
The Fog (2005)
The Four (2012)
The Gambler (2014)
Gang Related (1997)

The Guillotines (2013)
Hannibal (2001)
Into the Arms of Strangers: Stories of the Kindertransport (2000)
The Karate Kid (1984)
The Karate Kid: Part 2 (1986)
The Karate Kid 3 (1989)
Kid Cannabis (2014)
Killer Klowns from Outer Space (1988)
King of the Mountain (1981)
The Kings of the Streets (2012)
The Last Tycoon (2012)
Legend of Kung Fu Rabbit (2011)
Little Big Soldier (2010)
Lost in Thailand (2014)
The Man from Nowhere (2010)
Miami Vice (2006)
Mr. Majestyk (1974)
Mystery Road (2013)
New World (2013)
Ninja Masters (2009)
Not Suitable for Children (2012)
On the Job (2014)
The Phantom of the Opera (2004)
Penelope (2008)
Possums (1998)
Radio Days (1987)
Saving General Yang (2013)
Shaolin (2011)
Slightly Single in LA (2013)
Special ID (2014)
Staying Alive (1983)
The Substitute (1996)
The Substitute 2: Schools Out (1998)
The Substitute 3: Winner Takes All (1999)
The Substitute 4: Failure is not an Option (2001)
Surf's Up (2007)
The Taking of Pelham 1, 2, 3 (2009)
Tai Chi Hero (2012)
Tai Chi Zero (2012)
Terminator 2: Judgement day (1991)
The Thieves (2012)
Things You Can Tell Just by Looking at Her (2000)
Top Gun (1986)
Up in the Air (2009)
Vampire in Brooklyn (1995)
A Viking Saga: The Darkest Days (2013)
War of the Arrows (2011)
What's Eating Gilbert Grape? (1993)
The Wrath of Vajra (2013)
Young Detective Dee (2014)
— Phillip Swann